Okay friends I have yet another yummalicious recipe for ya'll..and will have lots more now that I have finally received my recipe scrapbook my Aunt has slaved over since the winter time last year. She made me a 66 page scrapbook of family recipes from herself to some of her family members and her husband's (my uncle's) family to her friends and some from my Mammaw Joyce (my Father's Mother ((RIP)). This recipe was the first I chose to make from the 66+ recipes listed in the book. She is most famous for her pies, cakes and sweet delights so that's what most of the recipes are but she is also crazy over chicken more than any other meat so chicken recipes outweighed the beef :). Anyways I thank her from the bottom of my heart for taking the time to make something so sentimental that I hope to pass down many generations and add to myself :) Getting on to the recipe...
You Will Need:

8 oz. bag of egg noodles, cooked and drained

1 lb. hamburger meat, browned and drained
1 can cream of chicken soup
1 can cream of mushroom soup
1 cup milk
1 cup shredded cheese (your choice)
Boil your egg noodles according to package directions and drain.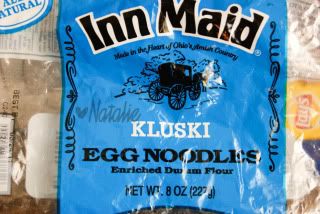 Brown your hamburger meat and drain off the grease, combine in a large mixing bowl. Mix in the cream of chicken, cream of mushroom, milk and cheese and pour into a casserole dish.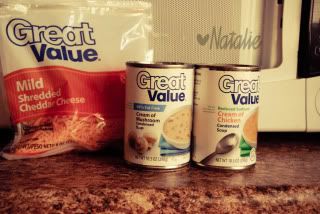 Bake on 350 degrees for 30 minutes...Enjoy!