Straight to the point.
I am tired.
Tired. Tired. Tired.
Go to bed? Me? Psh. That never happens 'till around 2 AM!
Why?
Because I am unorthodox I guess.
Hehe..sorry for being random and rambling.
Going to link up to a few of the Tuesday Challenges and get some photos ready for link-ups that aren't up until tomorrow!

First off, Trendy Treehouse! The theme these is Tint. Gosh this could be interpreted in SO MANY WAYS. However I chose this way:


I took this photo tonight of little man in his playroom. I must've snapped at the perfect moment to have captured that face. LOL! Anyways this action is from Nelly Nero's B&W collection & it's called "Ain't(and/or Isn't) Life a Peach? It's a black and white action that has a peach tint to it. After it runs the tint is usually more subtle but I amped it up to give it that "tint-y" tint feel for the theme :D To see more tints to over to the Trendy Treehouse by clicking the button below!


If you like it please head over the the Trendy Treehouse blog by clicking the button above and voting for him in the comment section PLEASE! :)

Sweet Shot Tuesday


There's nothing that says "Sweet" more than a man getting his wife flowers for their 56th wedding anniversary! This is my Pappaw and Mammaw. On December 31st of 2010 they were officially married for 56 years! (For you all wondering and it's okay if you are my Mammaw has a disease called Huntingston Disease..it's a terrible life-altering disease that there has not been a cure found for yet and my Pappaw has been taking care of her splendidly for the last 40 years. He is a Saint in my eyes! He works more than anyone I've ever seen!) Want more sweetness? Click below! Also, the theme at Simplicity is Happiness and this photo doesn't 'say' happiness it SCREAMS it! To see more, click below!



The Happiness Project


Flowers make me happy, especially since they were the only living ones within 20 miles of me :) This shot was taken out of the bouquet in the photo above of my Grandparents! To see more Happy Shots just click below!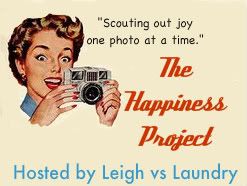 Communal Global


Must I say anything. Cute face. Bokeh. End.


Once again. Eyes. Cheeto face. End. :D
To see More:



Touch Up Tuesday
SOOC


Edit:


I just used some basic editing to give a little warmth and 'pop' to the photo. Added contrast, brightened up a bit, smoothed the skin and played with the colors! I really love the final result! To see more head on over to Paper Heart Camera!