It's "that" time of the year ..yep that time where your garden is bountiful with veggies that we all love (well some of us do) and wanna eat all summer long. Well the same old same gets a little boring over time so we gotta dig and find some creative things to do to spice up these boring veggies! I have been told numerous times about stuffed zucchini (which is similar to stuffed peppers) and I never really had a 'want' for them because I don't like zucchini myself unless it's pickled (haha). But since we are going to have them running out our ears before long I figured what the heck? I would try it. I found a recipe online but I tweaked it and made it my own because there were things missing and things there that I wanted there/gone. So here is my recipe for some DELICIOUS stuffed zucchini! Enjoy!


You Will Need:

1 and 1/2 lbs of zucchini (more or less depending on the number you are serving)

1 and 1/2 cups of bread crumbs

two eggs

1/4 cup of minced onion (optional)

1 lb hamburger meat (optional)

2 ozs (I used more) of shredded cheese (your choice)

2 Tbsp. Parsley flakes

1 and 1/4 Tsp. salt

1/4 cup grated parmesean cheese (halved)

2 Tbsp. (stick) butter (cubed)

Start off by cutting the ends off of each zucchini (I used two larger ones). Then cut them in half lengthwise like you would a watermelon. If you don't have a large 'spaghetti' pot I suggest you cut those halves in half again to ensure they fit properly and cook evenly. They should look like this: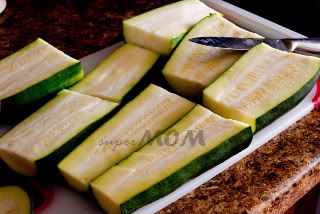 Next you will bring a pan of salt water to boil..just enough salt for taste. Also, if you chose to use beef then you should start browning it in a skillet at this point. Boil the zucchini for about 15 minutes or until tender.
While timing that you can mix together you bread crumbs, eggs, salt, parsley, shredded cheese, onion, (half) the parmesean cheese and the drained hamburger meat in a separate bowl.
After the zucchini is tender, remove from boiling water and using a spoon scoop the flesh out of the center of each half leaving a boat shape. You can mix the flesh with your meat/cheese..etc. mixture (or not..I only used the flesh of a few of my halves and no seed). Then scoop that mixture into the zucchini "boats" and dot with the cubed butter and top with the remainder of the parmesean cheese: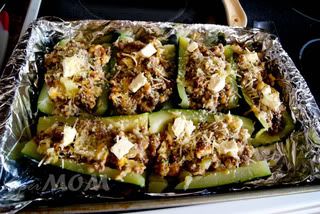 Cook in preheated 350 degree oven for 30 minutes. Viola! You have a healthy, hearty and scrumptious meal!