It never fails for people to repeat me in a questioning tone when I ask them if they have ever eaten chocolate and biscuits...they're like,
Chocolate and biscuits??
That's what I said. This has been a favorite breakfast item of mine since early childhood. My Pappaw JH made it for my Mom and her siblings when they were kids and I always loved to be at his house when he made it. My Momma made it for us too but not as often as Pappaw did. Now this recipe is one of those that no matter how hard you try it never tastes like the original because we all know the creator knows best ;) And if you have low patience then I wouldn't suggest you try it because it may take more than one time. It's one of those..a dash of this and a pinch of that and a hand of this kind of recipes (those are the best kind!) So bare with me and follow instructions carefully.
You Will Need:

1 c. sugar

1/4 c. Hershey's baking cocoa powder

two heaping hand fulls of all-purpose flour

milk
First you will mix the sugar and cocoa powder until lumps are gone. Next you will get you two heaping handfulls of all purpose flour and add to the sugar/cocoa mixture. Now this is the key to the whole recipe working for you. Too much flour will result in very thick and hardening chocolate and too little will result in thin watery chocolate. So once you have added the flour it should look kind've like there are even amounts of everything in the sauce pan. Next you will fill that (*medium) saucepan with milk until it's about 1.5-2 inches from the rim (giving it room to rise when it thickens!) Now you turn your heat on medium-high (about 6) and stir frequently.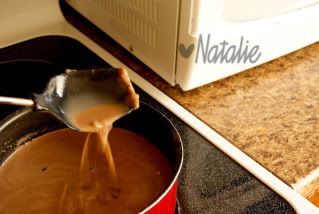 (This is the consistency right after adding milk and before applying heat)
**Note: Before you get the chocolate on the heat, you can (if you prefer) get your homemade biscuits mixed up and cut out. Chocolate tastes best with homemade biscuits, but that is just my opinion and I'm partial because I don't like canned biscuits period. But they will only need to bake 10 minutes which is about the time it takes to thicken the chocolate. Once the chocolate gets to a medium thick consistency then remove from heat. It will get thicker as it stands.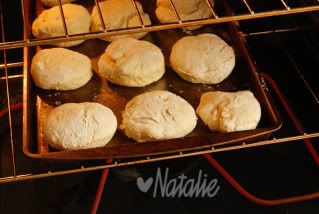 (Yummo! "Cathead" biscuits!)
Now the best way to eat these babies are to crumble up a biscuit or two in a bowl and dip some chocolate over them and add a dollop of butter. I promise if it comes out perfect you will wonder why you had never tried it! Enjoy!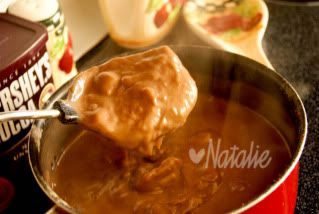 This should be your final consistency! ENJOY!