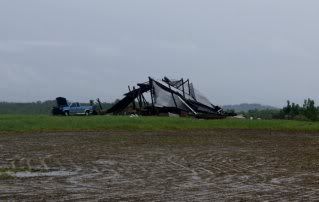 This was in early May of this year. This top picture was taken of a barn that has been standing probably well over 100 years, until now, and it is less than a mile from where we live! It was my Great Grandmothers when she was alive but now my cousins reside is the trailer that was about 500 feet from this maimed structure. Thankfully none of them were hurt but their home suffered slight damage which, with the help of some awesome family, got repaired quickly.


This photo was of a mobile home in a nearby city to ours. It was one of two in the town that suffered damage to the home. By the way if you hadn't guessed already a tornado was the cause of the destruction. On top of that there was extreme flooding. It was a scary experience for all of us...because that one tornado went through more than one city leaving destruction in it's path.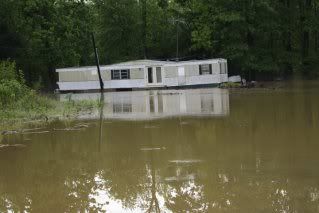 See the water?! Up to this mobile home's door steps~! And the photo below is a big field ...that is underwater completely! Its was so devastating..but once the sun did it's work and dried it all up and everyone worked together to rebuild what was destroyed..we were back on track. But all I can say is just, WOW!