Oh my how I enjoyed the past several days! (Minus the fact that I was deathly ill Christmas Eve and Christmas Day) but I survived and got to see some long lost family and watch my son receive more toys/presents that any child should ever need...I love the holidays, the togetherness, thew warmth and glow of the Christmas lights and the laughter that fills a crowded house. It's just my favorite! I took so many pictures it could take till next June before you saw every single one :) In addition to Christmas my Birthday (as you probably already saw in the last post) was yesterday...so that was fun :)

My husband cooked me and delicious dinner AND made me a chocolate cake with chocolate icing! He's good to me people, I'm tellin ya (on my Birthday that is) NO JUST KIDDING! haha he's good ALL the time. My little one gave me tons of Kisses and kept saying "HAPPY BURFDAY MOMMA" all day. He's a ham. Anywho back to the point...our Christmas was fun and I have so many pics of Dill just opening his gifts and I'll be sharing a few here .. there.. everywhere as appropriate but won't bore you to tears with them :) Hope you enjoyed your Christmas with your lovely little families and that Santa was good to you!!



I took this of one of the branches on my parent's tree in their yard the day of Christmas. (I couldn't resist but stand outside for a FEW minutes and suck down some freezing air into my sick body to get a few macros and such :) I used my 50mm prime lens and had the ISO down to 100 and the aperature at 1.8. I added a texture from Nite Fate over at DeviantART and boosted the vibrance of the photo. I was happy with the outcome. Do you like it?


And for good measure here is another macro favorite...you can almost see the detail of some of the teenie tiny snowflakes that are rested on the leaves of this bush! Plus the edit gives it a very muted feeling..kinda vintage-y I think.



This is like my favorite shot from Christmas day (outside one)...Can you tell from the powdery look that the snow was being blown off that cedar tree? For the life of me I cannot remember which action I ran here..or if I even did or just fiddled with the virbance and selective coloring..either way this photo is so soft and just.."wintery" to me..So I was so "Happy" with the result of this photo, I'll enter this into my Happiness Project over at Leigh vs. Laundry!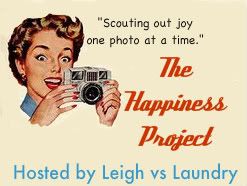 Do you notice I'm adding an extra for each photo I enter into a meme? hehe..it's hard for me to resist sharing I have so many photos to share. This is a bush right outside my Mom's back door. It is so simple yet speaks a lot I think. The action I ran on this is one of my FAVORITE actions. It is the strawberry vintage action I got over at the Linkie Lueville blog...she is an AMAZING photographer and if you search her blog for this action DOWNLOAD IT!! You will love it..it's insanely awesome.

Alright so Faith's theme for the week over at Simplicity is "kids". Dont ya know I have SEVERAL shots of kids...AH! But I'm gonna share a few favs of mine...


This was before we went down to my Mothers...Dillon was standing in the snow like..WHAT THE HECK!? Even though he's been in it numerous times, it never gets old each NEW time he's in it. Oh the fascination of a child!


HOLY COLOR POP! I love this photo. The vibrance of the colors are INSANELY ridiculous..not to mention the bit of bokeh from the tree..AND the look of his little face. Oh I just love it.


Ok so at some point it seemed as if he lost interest or focus on opening his gifts.. he had so many I couldn't blame him. He just rip, tore, pulled and when he finally reached his destination it was taken and handed off and he was given another one. He was like...well when do I get to play with the actual toys inside?!?!


Then finally he reaped the reward for all his hard work. He loves pushing big trucks around so once he had done his duty as the present opener he proceeded to enjoy the rest of his day in his sea of stuff :)



Finally Shutter Love Tuesday's theme over at Trendy Treehouse is "Christmas Present or Past." So here are a few photos to represent my Christmas Present.


We awoke to our first white Christmas in .. oh..years! It was unreal. The accumulation was magnificent and we couldn't ask for a more beautiful day!


These two people were the ones who traveled to spend the holiday here. On the left is my cousin Kevin, he's in the Navy and has been since the age of 18. He is now nearly 30 and has been in Iraq for several years but now reside in San Diego, CA. He is a brave guy and I thank him for his services to his country. He is my Dad's brother's oldest/only son. The lovely lady to the right is my half sister Brandi. She has been in Louisville for the past year staying and working at a rehab center called "The Healing Place". Until Thanksgiving he hadn't seen her since the Christmas before that. I am so proud of her for the things she's done and struggles she has overcame in her life and I love her just like my other two younger sisters. She kept Dillon over night Thursday night (the night before Christmas Eve). He LOVES her to death..because she is the "fun" Aunt who loves to color with him and have tickle wars! I'm so glad her program will be up in 2 months and she's moving closer and intends on having Dillon over and building a strong relationship with him! Anyways, I'm rambling, they visited the whole day and we laughed and reminisced and had a grand ole time.


This is Kevin with his wife of 8 years, Jane. She, like my cousin Danielle was adopted from Korea by a lovely couple who lives in Utah. Jane is the easiest person to get along with. Even if you hadn't seen her for years it's like you have been around her the whole time. Her personality is easy to get along with and she's a true country girl who likes to go wheelin' and enjoy the outdoors. We talked for at least 4 hours straight during their visit.


I apologize for the poor lighting in the last couple photos. The house was jam packed so pictures were being taken by different people who had no clue how to work my complicated (to them) camera so I worked with what I had but am thankful to have every shot...dim/off center or WHAT! This is me with my sisters ! (And my Dillon with his ever crazy expressions!) Can you tell we're sisters..we don't look a bit alike do we?? HAHAHA! Anyways in order for you to put a name with a face it's me and Dillon and there's Brandi, Brittany and Emily!
I am entering this into the 'family' theme over at the Paper Mama blog! Because Dillons face is HILarious!!


Lastly I am throwing in Dillon's Christmas "presents" (seeing as how the theme is Christmas "PRESENT" and past hehe) that he received from us. I am not even going to name all that's there...because I can't recall and you can pretty much tell what it is from the photo. Isn't that a ridiculous amount of toys for ONE child? Plus that didn't even include gifts from other Grandma and Aunts and Uncles. Wow. But as we all know Christmas isn't about the gifts..it's about togetherness and family and Jesus Christ, our savior sent to this Earth, God's only begotten son, to die upon the cross and forgive us of our sin. We should praise Him and be thankful for all that we have and the family that we still have with us to celebrate. I hope your Christmas was warm and wonderful! I hope your New Years is happy too! Have a great day!