So a few days ago I saw where Karli over at Bonnie 5 photographed water droplets with a macro setting. I was gonna try it yesterday but was really unmotivated if you read my last post. SO after seeing Ashley's macro drops I was like wow..sure I have to do this..seeing as how I have a macro lens. So Ashley shared a tutorial that Jill shared for you to capture these amazing little droplets yourself! (CLICK HERE to see that) I did two seperate projects today...one was with water on my red casserole dish since everything in my kitchen is red to match my apple decor and the second I used a thicker liquid, evaporated milk. I just had some lying around so I was like well if it's not gonna get used..HAH! Fooled ya, I wouldn't be wasteful like that ;) I made instant potatoes and used it in them and only had a bit left and used it for my project! I have several to share so bear with me as I either amaze or bore you ;-).

Here's my first and favorite of the 'water' drops:


It is a "flower" ..almost perfect..the drop that made it is even kind've still present in the center so it tops it off wonderfully. Plus I love how vibrant the red is. I'm entering this shot into Angel Perry's first challenge link up over at this life is sweet. For more or to enter your interpretation of "Beauty" go here: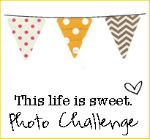 My second fav, well this and the first were hard and were a tie for my favs..


It's the 'crown'. Its so hard to capture this point of a 'drip'..but if you keep at it it happens eventually..or you go mad one ;)

Here is my third fav. The focus is on the single drop and I ran the "Dirty Bleach" action by Nelly Nero on it and I felt it gave it a really neat effect:


See? Do you like it?

Now onto my milk photos, I'll just share a couple of favs. To see more click the photos to be brought to my flickr stream and see more.


This crown is my favorite..I ran a vintage-y/lomo action on it and I liked the results.



This will likely be my entry for Black and White Wednesday. I used the "Feelin Grey" action on this since there was so much whites in the photo so that it didn't wash it out. I felt this was a solemn and neat shot.



Lastly I'll share a drip/stream I captured out of our sink faucet..I wish the actual drop hadn't have motion blurred but the little stream was in focus and neat. I ran a "vintage white" action on this and cropped.



Well I hope you enjoyed my attempt at this little project! I really enjoyed doing it and encourage anyone who have been thinking about it but haven't to try it. It's fun, a bit maddening but fun ;) Have a Great Week!