Hi all! Doing my what seems to be turning into "weekly" check-ins! I hate not being able to blog everyday and participate in all the link-ups and challenges but on the other hand it's nice at the same time. We had some GORGEOUS weather this weekend. Saturday it was nearly 70! And me without a camera..BOO! Oh well, I've in a way enjoyed a break from that as well...it will make me appreciate my new baby 10x more once she's here this week!

In my last post I mentioned I sold my beloved Sony A230 and was ordering my "new" Canon this weekend! Well the deed is done! Found an awesome 40D for an awesome price and it's supposed to be shipped along with my 50mm 1.8 lens today! So I'm looking for it to be here around Thursday, possible Friday! WOO HOO! *Happy Dance*

So ATTENTION ALL YOU CANON USERS OUT THERE I would LOVE your input and suggestions on lenses and what I should invest in next! I don't know much about Canon yet and find that I am definitely a prime lover (as I never removed my 50mm from my Sony) but I'm looking for lenses that are affordable (not the 1k+ lenses) and that make AWESOME sharp portraits. Any suggestions would be greatly appreciated!! Thanks so much!

Okay onto this week's link ups..Here is my Week 10 of project 365:


March 5- The last day I used my Sony to take this lovely photo of my son, Dillon being all cute and cheesy :)
March 6-I forget where we were going but we were riding along side a train on the way there so I snapped with with my iPhone camera.
March 7-My first ever crocheted hat! I am so proud of it (hehe!) I am finished with my second which is a "tiger striped" hat (brown and orange) all I've yet to do is add earflaps and the tassles and it'll be done :)
March 8-My little man spending some quality time with Mommy on the couch!
March 9-Another cell phone pic taken at night while we were all giggly!
March 10-We have so much fun together..
March 11-My parent's dog Allie. She is the best dog you could ask for!
I hope to make it a goal to get more creative with my project 365 shots. I've noticed lately a lot of the shots are repetitive like selfies from my phone or mostly of Dillon. I'm going to try and think outside the box more and hope it works :)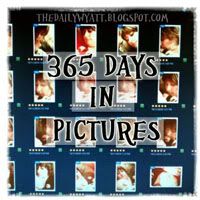 Scavenger Hunt Sunday
1.Vanishing Point

[Taken with my Canon Point and Shoot] At some point in this photo the beaming sunlight through my Mom's glass door causes the carpet to "vanish"..hehe.
2.Square Crop


Hmmm couldn't find a square cropped photo in my flickr stream although I know I have some...and since I have done closed out photoshop and am too lazy to reopen/crop/upload to flickr I'll just share this "square" minus the crop? Sorry...I'm suckish in the creative department lately LOL
Under


My husband standing under the cat teasing him. Better watch out before he pounces on your head! LOL

4.Welcome to the Jungle

Dillon this past Saturday with 4 of his cousins and his Aunt. (The girl at the far right in the pink shirt, my little sister/his 8 yr old Aunt!) We were missing at least one or two more kids that were there that day. Yes..."welcome to the jungle". (PS thanks for putting that Guns N' Roses Song in my head!) ;)
5.Calm


Ahhh...warm sunny day with the sun kissing your skin. Nothing more calm than that! Hope you liked my interpretations this week...