My husband's alarm goes off at 5:45 every morning. Usually I get up, turn it off and go in the kitchen and pack his lunch and put his mining light in his bag. BUT this morning there were different plans for me. My son was awake at 5:21 AM hollerin' MOMMA! MOMMA! Sheesh. I hate getting up just 20 minutes before I have to BUT I went in there and sat with him in his rocking chair (a moment I still love to share with him even if is IS 2 years old) and rocked him. After a good 10 minutes I looked down to see if he went back to dreamland only to find him with the biggest, fattest grin on his face..I'm talking cheesin' big time. How can you not love that?! So I caved and let him get up and help me see Daddy off to work. Now he's cuddled up watching Ice Age (one of his favorite movies) while I blog :)

I am surprisingly awake to have only gotten 5 hours of sleep..probably because yesterday (being the good wife I am) I made three trips taking off our trash and then washed my husband's ATV for him (which takes longer than washing a car, believe me!) There's so many places you have to wash on a Rhino (the name of his ATV)..like under the bed the cab the underside of the front...it was time consuming! LOL. It was a little more chilly than I expected it to be yesterday so we had to wear light jackets and hoodies all day but I think it's supposed to be slightly warmer today! Can't wait to get out and finish landscaping! We have big(ger) plans for our "gardens" this year including a little pond (hopefully) among other things.

One last thing I want to mention today before I bore you to tears. My friend Kara from The V Quartet has a doctor's appointment today to have an ultrasound of little Miss Addy, they're making sure everything is alright with her..a couple weeks ago she was bleeding and cramping so they put her on work leave for 2 weeks. She fell last Friday getting out of the tub and bruised her back up and I'm just asking for your prayers that the visit goes well and that all is okay with her daughter! She's around 30 weeks so a couple months to go before Miss Addison arrives safely! Thank you!

I am very behind on link ups so I'll be sharing some photos from yesterday evening for my link ups! First is my "Nature"/"Depth of Field"/"Pastel" link up: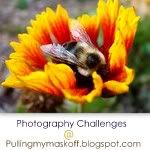 Shutter Love Tuesdays!
I would also like to thank the Trendy Treehouse for choosing my Self-Portrait photo from last week as their top 10! I'm very honored! Thank you!

Touch Up Tuesdays!


SOOC


Edited in CS5



And for good measure a few other favorite shots:


The theme for "Theme Thursday" at "Another Day, Another Diaper" is "Transportation". This is almost our main source of it during the warm months! It's my husband's Yamaha Rhino 660! We love to ride and take our son with us! He loves it more than us I think! So this is my photo for the link up! :D