So I was just over at Mandy's blog and read a post she wrote about her relationship with her sweet little Bennett. It really hit home with what I've been feeling for almost 2.5 years now.

So do I win Mom of the Year Award? No. Am I the world's greatest Mom? No. I loose my temper...I loose my patience. I yell when I should be more understanding and I freak out a LOT when I should just take a deep breath and think before I act/speak. But I try my best and I live and learn and I ask God for patience and understanding and for guidance as a Mother. He is always there to help me through.

Anyways my son is basically attached to me at the hip. My husband actually said that last night as no matter WHAT I was doing Dillon was right behind me or right beside me. That's the way it's always been. He is a BIG OLE MOMMA'S BOY. He not only is jealous when I have other kids but even when my husband is wanting to snuggle cuddle with me when he gets home from work. Last night Jon (the husband) came over to lay with me on the couch..which was immediately proceeded by Dillon grabbing me saying "IT'S MINE! MY MOMMA!" while tugging on my arms. It's funny in a way and at time we feel like we can't even have "us" time BUT none-the-less I love Dillon and I want him with us whenever he CAN be. When we decided to have a child 3 years ago we knew a lot of responsibility came with it and that he would be apart of our lives and our everday.

I still think all parents should have alone time. I yearn for it all the time, but I find myself with anxiety/separation issues if we leave him somewhere..I worry about him getting hurt or running off or crying for me...etc. I miss him also. When we drive down the road without his little booty in that carseat in the backseat, we feel sad and empty..yes WE. Jon feels the same way when we leave him, we miss him and that's just us LOL! He usually accompanies us everywhere. Children are a precious gift from God..the most special gift a human can be given. I am very thankful for him everyday and feel so blessed to be his Mommy. I love you Dillon Howard.

Okay I got that mushy-ness out! So I'm gonna share some photos from my yesterday♥

Texture Thursday!


Grass is a texture, plus this hazy photo with that big blue sun flare makes be swoon. (Btw, bokeh has almost taken a backseat to my obsession with sun flares! LOL And when I can capture BOTH in a photo I'm just totally pleased LOL!)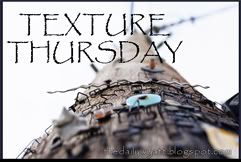 Spring!!


This photo is apart of my header and I haven't yet shared it in an actual post so here it is!



The theme at Beth's blog (You Capture) is "Smile". This is the HARDEST to choose a photo for so I gotta just share more than one!



Thanks for stopping by beautiful peoples! ♥♥♥♥♥♥♥♥