I found out some awesome news today! Im so excited! But I can't share anything for a while so when the time comes I'll remind you of this post and let you know what the exciting news is....HEHE!

I have some errands to run today...so I'm trying to get my link ups for the day done so I can get dressed and go. First I want everyone to remember all the families who lost loved ones an suffered other losses in Oklahoma and North Carolina in the recent tornadic and severe storms. Also keep all of us here in KY and Indiana in your prayers and other states this storm system is ravaging through currently, as we're expected to have strong/severe storms in the overnight hours tonight. Storms freak me out because we live in a mobile home, a not-so-safe place to live during bad storms and I just dislike them all together! So keep us in your thoughts and prayers and *fingers crossed* the storms weaken as they come.

Thanks so much for all the comments on my last post! I was smiling as I read through every loving sweet comment you guys left! I will do my best to return the love today sometime! I hope you all are having a great week thus far and that it only continues to be blessed!

Faces:


I don't know about you but I LOVE furry faces :D



Touch Up Tuesday
BEFORE


AFTER



Indoors


Inside looking out :)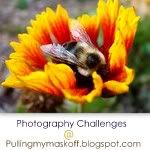 Routine


It is routine to plant flowers every year! These are some for this year :)



Blue


Blue Eyes, Blue Jacket, Dirty Nose :D



Thanks for stopping by friends! Lots of love to ya!♥ And thanks to the Trendy Treehouse for ♥'ing my "Bicycle" photo last week!