Well I am back ;) my baby boy was SOOOOO exhausted from going all day this 90-something degree day with NO nap that we decided to stay in and chill (literally in front of the A/C;) and let him get in bed early!

I spent my down time editing some photos from yesterday while the hubby is playing his Xbox! I have no clue what tomorrow has in store for us but I can't wait! :)

If you haven't seen it yet, check out my previous post about my "new self" (I got my hair all changed & I'm excited;) and I may include some of the last photos of my all natural brown hair in this post...lol!


1.Motion

First thoughts here was "motion blur" but since I have no photos of motion blur I though of "in motion". This photo was a WONDERFUL accident. It was a miracle I captured it and managed to get that rainbow flare across the bottom. My child was running and stumbled, this was as he was 'in motion' to get back up. Can you see the determination in his eyes? I can't remember what/who he was after ;)

2."Waiting to Click"


I overthink self-shots. Really I do. I find myself very anxious to hear that "beep" then "click". So most of the time you can pretty much tell that I'm "waiting on the click" and only hoping my smile isn't fake or my hair isn't everywhere or that I don't look pudgy..but..I always manage to find a few that I love :D

3.In Fashion


Casual wear is always in fashion!

4.Animal's Perspective
So "Black and White" is the theme this week at The Paper Mama. I wanted to think outside the box..out of the black and white processing and chose this photo taken of my sister and brother-in-law's new dalmation! I also wanted to use this as my "Animal's Perspective" for scavenger hunt Sunday!


He's black and white, so why not?! He's a sweetie too ! :D

5.Many

My sister has so many pieces of chalk!



There you have it! My Scavenger Hunt for the week! :D

My Project 365!! And ON TIME THIS TIME! YAY!


April 2-My Camera Strap Cover I made!
3-My husband and his sister!
4-Dinner that day!
5-Me and my beautiful lil' family!
6-My Aunt from Kansas visted this day!
7-Spring is in the air!
8-So are allergies~! :D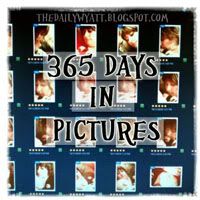 Whew! Okay I'm done! YAY! Time to snuggle with my snuggle bunny!