Was hot. It got 90 degrees here and it was HUMID! I am thankful for the sun but why must KY always go from winter to summer, skipping spring?! I think it's supposed to cool down over the weekend and beginning of next week though so I won't complain too much!

Yesterday I met up with one of my best friends, Joy, who is an aspiring photographer too. We met up with a bride she is covering a wedding for Saturday (I am her backup shooter). She asked me several months ago to do it and since I have no wedding experience I decided to to gain the experience. The bride was wonderful, very down to earth and laid back and I was glad, nothing worse than dealing with a bridezilla! LOL! We visited the church and did test shots and looked at the layout to see what we could come up with...she rented me the 580 EX II external flash for my Canon (Joy did) in cause we need it or the rain comes and we have to stay inside. If anyone has any advice for shooting a wedding or any super cute fun poses to share we're totally open to ideas! Thanks!


[Joy and I]-Just because she says she looks evil here hahahhaa! ;)
I left the house at 10 AM and got home at 3:30..I just picked my hubby and I some fast food up while one the way home...OH! And also I FINALLY ordered our portable air conditioner! YAY! LOL! I've mentioned before how miserably hot it gets in old trailers in the summer and we only have one 12,000 BTU window unit in our living room which ONLY cools the living room..so in the other side of the trailer our bedroom is like 90 degrees! AH! So We saved up money for a portable 10k BTU and I cannot WAIT till it's here. AH..the comforts of modern living!

My "Fun" photo placed in the top two over at Ray's Blog (Pulling my Mask Off) and if you would pleasseeee go over there and vote for me? Thank you! Just Click HERE

The theme at her blog this week is "Black and White" and here is my shot:


I love everything about this. The water bokeh, the angle, the short chubby legs...EVERYTHING!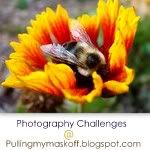 High Contrast


A photo of me over the weekend while in Evansville!



Good to Wow!
Original:


I followed Ashley's tutorial on Gradient Maps today, and WOW! WOW WOW WOW. I will probably be using these tips from now on to creat a more custom edit. I loved how the edit came out. I followed her tips today and the one she referred to a few weeks ago about giving that hazy feel and sun flares! I love it! Here is the edit using Ashley's instructions:


And here is MY own edit using the black and white gradient map and then adding a levels adjustment and soft center light!