Oh my goodness! Hellooooo blogger! I know last week right after my last post blogger went down a couple days, but I see now it's back in business. I am so VERY behind on everything in my life right now! I am way behind on my 365 collages, and probably will just be skipping the link ups for a bit until things slow down. I also am battling a cold/upper respiratory infection right now. What I think started as seasonal allergies has turned into a cold of some sort. Needless to say it's horrible since I can't breathe out of my nose at night and feel like I've been ran over when I wake up.

Anyways, I am so behind on laundry from our busy weekends lately! This past weekend I shot my FIRST wedding as a backup shooter for a friend of mine...it was fun and I've spent a little time everyday since Saturday editing the 500 photos I took. That evening I came home to a spotless clean house (thanks husband!) then was taken out to dinner and for bowling with my sister and her husband.

Sunday we got groceries early and then that evening went and visted my husband's mother and his sister and brother in law. It was really chilly and rainy and gloomy all weekend but is slowly returning back to normal temperatures. I haven't done a lot of shooting with my "big girl" camera other than the wedding and some photos I took of the kittens (whom are growing like weeds!) yesterday. Here are all the little fuzzy cutie-patooties.


Now if I were to name all three of them I would name her Topaz :)


Her Julie (or Jules for short;)


And her Lila! Don't ask why, that's just what they look like to me! :)

My touch up Tuesday this week is using one of the photos from the wedding. After the ceremony we went out and I took photos of the bride/bridesmaids and Joy took photos of the groom/groomsmen. I loved this photo but felt the background was too busy so I did a little magic in CS5 with the clone/heal tool and smudge tool. This is what my before and after looked like:


BEFORE


AFTER (EDITED IN CS5)



For the Paper Mama's "Wide" challenge this week I'm gonna go with our "wide" open spaces out here in the middle of nowhere. This is the pond in my Pappaw's yard and my son fishing with his little short legs and little short pole :) I love it!


I love how you can still see slight bokeh in the tree reflection in the water!



At Trendy Treehouse the theme is "circles" and dandelions are in a circle shape, plus don't leave out those bokeh circles!



Pullin My Mask Off "Spring"!


What says spring more than bright, beautiful yellow flowers!?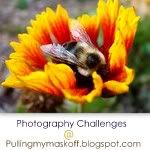 Good to WOW! (Rain/Umbrella)


It was raining on this beautiful girl's wedding but she DID NOT care! She was a country girl like me, which made it easy to get along with her! If you look closely you will see some of the raindrops frozen all around her! I love it.



Lastly I was recognized three times! WHOO HOO! One by Trendy Treehouse, I was #6 for my "Mother's Day/Motherhood" photo! Allie for my Happy Monday entry "Green" and my "Fun" photo was voted #1 at Ray's blog! (Thanks to all who voted!)


Thanks to all of you for choosing my photos! I am very honored and appreciative! Have a good hump day and upcoming weekend!

PSSST! If you wanna enter to win a cool 3 in 1 Tight Knit Sling head over To Shauna's blog (Captivus Blog) and enter! Just Click HERE!