I'm all about some weekends if you haven't noticed! They're my FAVORITE part of the week! I hope you all have had a good one! A couple posts ago I talked about how excited I was for my friend, Kara's, induction Tuesday (the past Tuesday) and I'm SO happy to say that she gave birth to a beautiful, healthy 7lb 12 oz 20.5 inch long little bundle of beauty at 8:47 AM Tuesday morning! I have come up with nicknames for her two kids (Addison & Gunner)-Since Addy's middle name is Reese she's my "Reese-es Pieces" and Gunner is my "Gunny Bun". Aww so "sweet" ;)
She is now home and recovering and resting and I couldn't be happier for her and her little (now) family of four! Also-today was her and Sean's two year wedding anniversary! So if you'd like head on over to her blog
The V Quartet
and wish her a happy day!
Smiles; LEM
Tara's photo challenge link up for tomorrow will be "Smiles" and here is a shot of Kara before the pain really started kickin in! I did her hair for her-to keep it under control and her lookin good ;-)

I forget what/who she was laughing at but this is a genuine smile!

Water; Project Alicia

We've been in the pool SO MUCH already. So naturally I should have some water shots ;)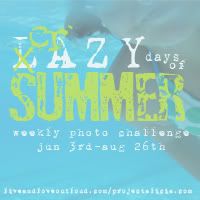 Upside Down; Mom Tried It
This one was a little tricky-so I thought "I was on the upside looking down? EH?! Does it work?! Okay okay.

Today was a lazy sorta day-I had my younger sister blow MANY many bubbles so I could capture some shots and it was fun-I also took Dillon for a late afternoon swim! Here is a bubbles shot I love:

Hosted by Cecily and Lolli
And a couple more bokeh-licious ones for fun:)


Thanks for visiting & commenting (if you want to/do!)♥