Hey all! Have you ever seen a unique font you wanted or thought of a font you'd love to use?? Well I have and do on my very own blog. My sister taught me how to install them to my computer so that I could use them in Microsoft word and other programs such as the paint program or editing programs such as photoshop. Well now I am going to show you so that you can use your cute font for invitations, thank you cards or whatever you may be 'typing' at the moment.
First you will find a website that offers free downloads for their font files. My favorite place to go with
TONS
of different and unique fonts is this website right
here.
You will search their huge selection of fonts and when you come across one you like (for this tutorial I used "Chopin Script") you will click on "windows download" to the right (or Mac if you have a Mac) and you will be asked whether to open or save the download and you will hit save:..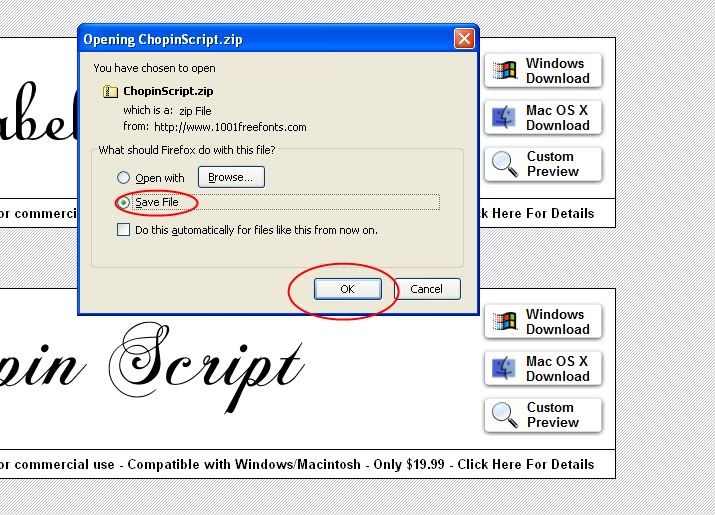 Next you will go to the folder you saved the download to and extract the file..it will be in a zipped (compressed) folder. If you know how to decompress then awesome..read ahead of this step, if not then you will open the zipped folder, look to the left side and you will see "Extract All Files" and then you will have a window ask you what you would like to do..you will hit 'next', then 'next' and then finally 'finish'. A new window will pop up showing a file with a big blue "T" on it meaning it's a text file: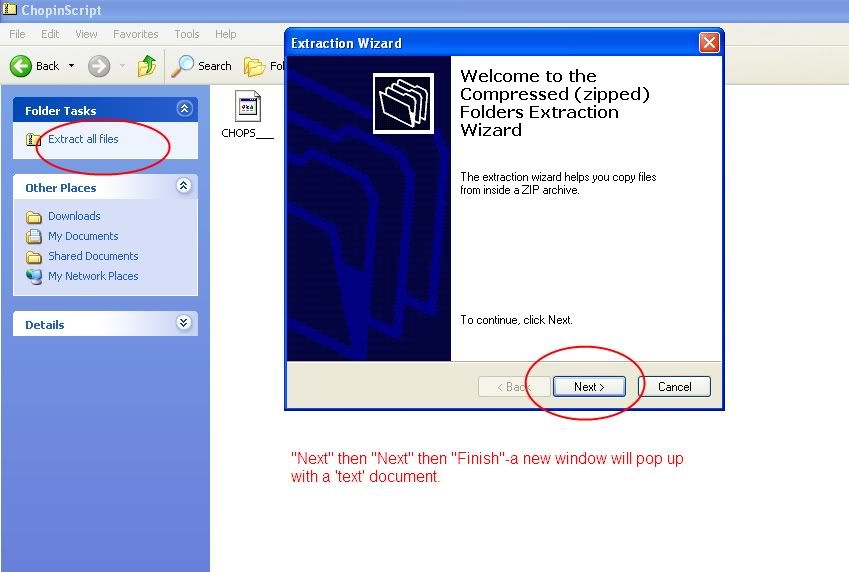 The final step is crucial. In order for you to be able to open this font in a running program make sure all programs are CLOSED. You will need to find the 'font' folder in your computer (local disk C). Since all computers are different the best way I can tell you to find it is to open up your "My Computer" folder, hit CTRL+F and a little dog or maybe a paper clip dude will pop up in the lower left or right hand corner asking you what you want to search for. Next click "All files and folders" and when you have to enter your search name in the text bar enter "fonts" and hit 'search'. It may find more than one folder containing the name "fonts" in it. So just open the folders until you find one that has a BUNCH of 'text' images in it already (this will be your pre-existing fonts already in your computer). Drag and drop that 'text' file you just downloaded and extracted into the fonts folder and it will install it and now you're ready to use your new super cute font! Have fun!