I've been reading through the
Random Act of Kindness
posts people have been contributing through their blogs and many of them are absolutely amazing and touch my heart! So if you hit the "I Heart Faces Button" at the end of this post it will take you to the page where you can read more about the awesome stories the I Heart Faces Readers have lived out and had heart enough to share with us all! As for me, I am what many would consider an
amateur
photographer or a "rookie" so to speak. I bought my first SLR early this year (a Sony A230) and so far have the kit lens and just recently purchased the 50mm lens. I use it mainly to photography my son and our daily lives...although I have done pictures for two cousins during the summer this year.
I love photography, it's an escape for me and a way to show my imagination and use my "third eye" as my camera has come to be known to capture things that otherwise would never be noticed. I try to tell a story with my photos by capturing those moments that a lot of the time you wouldn't normally catch on camera ...so I bring my camera EVERYWHERE with me...literally..even if it's a basic trip to the store because you NEVER know that you could miss without it. The photos I have included in this post are very small random acts of kindness ...when compared to some of the stories on the I Heart Faces site. I haven't ever photographed homeless dogs or been able to do a shoot for a less fortunate family but someday I hope to. But this is what I have, and I will explain each act of kindness under each photo. Thanks for stopping by!
This was the most recent photo of them all. I know this looks like an act of annoyance but really if you consider the heat indices here being 110 or above this week this was very much so a random act of kindness of my little sister trying to help cool off my nearly two-year-old son.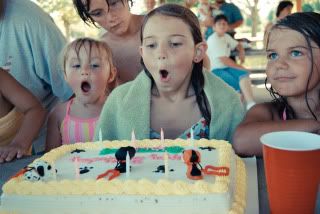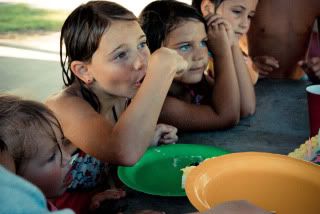 These two photos were taken for my cousin's daughter. It was her 9th birthday and we all know how hectic planning and putting together birthday parties can get...It was held at a local park and she called me about an hour before the party saying she had forgotten her camera..and how can you have a party without a camera?! So thankfully I had time enough to charge the rechargeable batteries for my point and shoot Canon Powershot I still have and brought that for her use and also brought my Sony to capture some memories too.
This nest was made in our driveway by a kildee. I was always terrified of these small long-legged birds as a child. Their call was shriek and loud and they would either play like they were injured to lure you away from their nest or come running full speed at you like they were a bear or something-and as a child that was a terrifying sight. But this year instead of being terrified of the little bird I did everything in my power to keep her eggs safe from neighborhood dogs and children and I hope that her eggs hatches and her babies prospered!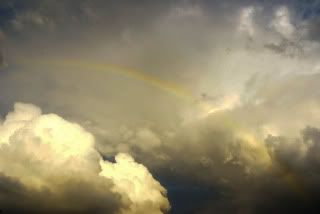 This rainbow was one of three or four I was fortunate enough to capture on camera this year. This random act of kindness is rewarded to ..you guessed it, God. Rainbows are supposed to be lucky right? Well I was lucky enough to capture four on camera so I consider myself extra lucky I guess :) There's nothing better than looking up after a cloudy rainy day to the sun bursting through the clouds and revealing a multi-colored rainbow to please the eyes!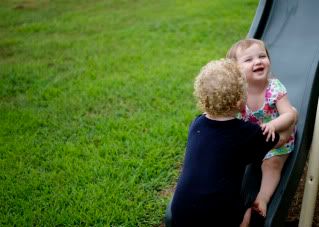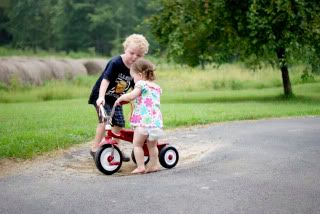 The last two you see are of my niece and nephew, Adelyn and Colton. This touched my heart as a "sibling" moment they shared..not once but twice. The first was of little miss Addy sliding down the slide and Colton caught her..and the revealed the sweetest little grin I could ever fathom. The next one SHE was helping big brother. He was riding Dillon's (my son's) Radio Flyer tricycle and had a "wipeout" so to speak in a dip in my parents driveway. She ran over and helped pick up the trike off him..how sweet right?!
So there you have it...my small (an in my eyes) random acts of kindness as they happen around me. I hope you enjoy!