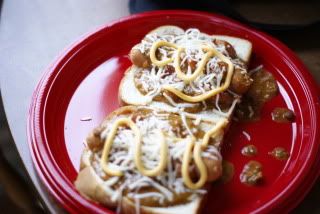 Do I really need to go on?! I could just lick the computer screen since we ate all of these earlier today (that is so odd to type..let alone say haha) but it was just good. Period. It was something I threw together last minute all on my own, no recipe to guide me...all randomly processed when we came in from town today. So I will stop mumbling on and on and get to the good stuff!!
You Will Need:

One roll of Field's Chili with Beans

1 small can of diced tomatoes (or not if you're not a tomato person)

1 cup water

A pack of your favorite brand of hotdogs

Shredded cheese of your choice

..and of course bread!
Okay so the rest is insanely simple...you just take the casing off the Field's chili roll and put it in a medium sauce pan with a cup of water, heat on MEDIUM heat until you have gotten the roll broken down into a soupy consistency. Add the diced tomatoes and cook for about 5 minutes longer.

While doing this get out another sauce pan and boil your hotdogs..this won't take long..maybe about 10-15 minutes! When it's all done slap you a piece of bread on a plate then your hotdog and then the chili...then top with whatever you like! In our case we used shredded mozzarella cheese with American squirt cheese (YES! IN A CAN!) Enjoy! It's delicious and light and a not-so-spicy topping for the all-American frank!