...have you ever seen the rain?...As quoted in the song by Creedence Clearwater Revival :) That's what we saw here ALL DAY pretty much. It's basically impossible to have nice weather here in KY without having tornadic storms and heavy rain/winds within the next day or so! Especially during "storm season" which is what we're smack in the middle of. I HATE storms...especially living in a single wide mobile home on top of what seems like a mountain! LOL. God has protected us though and thankfully my Mom and Dad are right next door and their home is half underground. I can just run down there to take shelter.

It started out around 76 degrees this AM, by the time the storms passed at around 3 PM it was in the lower 50's...so we were sweating this morning and I'm freezing now. Hormonal weather!..Okay enough about that.

I took the opportunity tonight to FINALLY edit the many photos taken on April 2nd and 3rd...yeah, I got a little behind. April 3rd was my Dad's 52nd birthday! So we spent the majority of the day with him then my husband's sister and her family came out for the second weekend in a row and we rode my hubby's rhino and played a little music! It was a fun filled weekend for sure!

So now I'm gonna share my link-ups for the first half of this week:)

Paper Heart Camera
The theme this week here is "Surprise!" How fun! Here is what I chose:


This may look more as if he were saying.."Oh look, she's taking another picture of me....Surprise..Surprise" .. but with thick sarcasm :D


Also a big ole thanks to Chelsey for featuring my "Kitchen" shot as one of her favs! I am very honored!



Happy Monday
This week at Allie's blog the theme is "Friends". I shared some of the photos taken when imy friend Kara brought her little boy, Gunner, out to play with Dillon. This photo says "friends" to me in EVERY way! What do you think...? Cuteness or what!



Good to WOW!
The theme this week is "Up" and I took this photo with the theme in mind!


My sister asked me to photograph her while climbing a tree. This shot I was literally laying flat on the ground looking "Up" at the bottom of her dirty Reebok's to get the shot I wanted!



Trendy Treehouse/Touch Up Tuesday
Okay so the theme is "self portrait"...that's perfect for me because on a whim I decided to take some selfies...with some gorgeous bokeh I may add. I also took some of my son and sister in this same spot the bokeh was so delicious! So you may see more in the future! I also chose to use this selfie as my Touch Up Tuesday entry over at Paper Heart Camera!


SOOC


Edit (I apologize, I edited SO MANY PHOTOS at once I can't remember what I did here :-/) lol

Mellow Yellow

There's some yellow-y tones in the bokeh behind them .. or am I just making it seem as if there is so I could use these ?? hehe!

Lastly but certainly not leastly I wanna show you the custom camera strap cover I made mySELF for my canon camera strap....I finally took it back off and got some nice photos of my work!


I did a basic strap with a 'ruffle' down the center and a fabric flower at the end!


I'm in love<3 This makes me Happy!!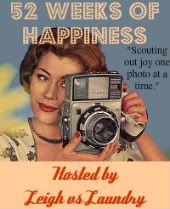 Whew! I think I may have gotten it all! LOL! I hope you all have a wonderful week!