So on a whim I decided to completely overhaul my blog! It took me ALL DAY-(NO JOKE!) to get it done BUT I finished it with flying colors and I'm really pleased with it. What do ya'll think!?

Please keep us in your prayers tomorrow, the National Weather Services says we're going to have the WORST severe weather outbreak in a LONG time tomorrow and the potential for violent/damaging tornadoes that will stay on the ground for several miles. I hope and pray that the strength of these storms decrease, but please keep us in mind!

My friend Kara from The V Quartet is SO close to giving birth to her second child/daughter Addison! I am SO EXCITED FOR HER! I hope she has a smooth delivery and things go well for Miss Addison's debute into the world!

Here are my link-ups for the week...

Good to Wow: Chalk



Paper Heart Camera; From Below


Over the weekend as I had mentioned in my last post we went to Cave City, KY where we explored Mammoth Cave and went to Guntown Mountain. This photo was taken inside of the "Saloon" while watching the Can-Can girls. We were watching "from below" since they were up on stage. I love how it looks like they're really getting into their "number" here :)



Pulling My Mask Off; Beauty


The relationship shared between my husband and son...is PURE beauty to me.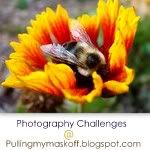 Trendy Treehouse; Crazy Faces


I caught my son in the middle of his tantrum he threw today. The faces he makes really ARE crazy!! This can be some blackmail material in the future ;) but I wanted to use this today :)


Also, thank you to the Trendy Treehouse for choosing my "Circles" photo last week to be in their top 10! :D



Touch Up Tuesday
BEFORE


AFTER


My lil' fisherman!



Happy Monday; "Something You Love"


Oh my goodness who doesn't love baby kitties?!?!? I am also going to use the fact that the kitties have blue eyes for my "Blue" entry over at The Paper Mama!



Perceptive Perspective; Outside


This is outside, in fact you can see half the whole countryside! Taken from a ski lift we rode up Guntown Mtn. in Cave City!