Hello all! Thanks for the prayers, we were able to make it out with little damage from the storms that swept through our area last night. Prayers DO work, people just have to remember to give all the praise to God and to humble themselves to ask whole-heartedly for His protection during these unstable times! Ask and ye shall receive!

I am posting today to link up my Good to WOW edit for the week. The lovely Miss Ashely from Ramblings and Photos showed her steps in editing this week and shared a lovely little action called the "Neat and Clean" action that she put together herself for those quick, clean edits! You can download it from her blog if you head on over! Also she shared a tutorial for mouseovers (where when you run your mouse over a photo you can see the before/after instead of having to put them side-by-side) which is a space saver AND time saver. Enough jibber jabber, first I'll show you Ashley's "Nice & Clean" edit: (Mouse over to see the original)


Now here is my edit:


To achieve this look I did several steps. Many I learned from previous weeks of Good to Wow edits. First I duplicated the layer and did a high pass with "overlay" blend mode and decreased opacity to about 50%. Next I did a little selective coloring since the chalk colors seemed so light. I upped the Magentas, Reds and Greens quite a bit. Next I turned up the vibrance and saturdation by about +70 (but used a low opacity black brush to brush off of Dillon's feet as they looked over saturated). Lastly I did a simple levels adjustment where I darkened the shadows and flattened! What do you think?!




The theme at You Capture this week is "Pretty"...I could share hundreds of photos for this prompt but I'll narrow it down as best I can!


Pretty Bokeh/Color/Smile...


Pretty Little Sister..



Pretty Butterfly..



Theme Thursday; Architecture


The Haunted House at Guntown Mtn. in Cave City, KY.




Texture Thrusday


Magnetic Rocks in Dino World has some texture..


And the regular rocks did too....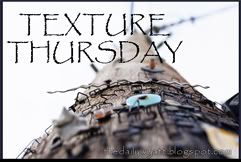 I hope you liked my link-ups today! :)