I spent the day yesterday with my Best friend, Kara. We hung out for a while, I gave her a window unit A/C for their room since it was so hot she was getting sick and some clothes for Gunner man (her son). It was good catching up with her and Dillon having someone to
fight
play with :) Anyways Miss Addy (the name of her unborn daughter) will be here in a little over a week! I cannot WAIT to see her! I am ready so I KNOW she is more than ready. Prayers for a safe and easy delivery are needed from all the prayer warriors out there!
Which brings me to my next subject, I haven't given God the glory enough lately. Life gets a little hectic and fast and we're just dragging along on the tail end of things but I want to take this second out to say that I am truly blessed to have all I do and blessed to be who I am and where I am today. God has delivered us through many pit falls and stumbles. Dusted us off with His Heavenly hands and assured us we are NEVER alone. Times get rough, people get rougher and we just loose our sight on what really matters, which is Him and His glorious outstretched arms filled with mercy!
I love to be in church when I can, but I'm not there as much as I
should
be or want to be..but I know that God knows that my heart is right with Him and that Church is about a community coming together to praise Him publicly so I make sure to be thankful each and everyday to Him for my fortunes.
I find inspirations everywhere everyday. I have lots of friends I've met in the blog community and other places that have been nothing but delightful to interact with and to help me grow and learn as a person and photographer. Although I've not pushed myself and my name in the photography world, I still love doing it, personal or business, and it's a strong passion that keeps me learning and digging for the creative spark of my own. I love the photographer community, and those willing to share how-to's and tips and tricks and I am appreciative to every person I've learned something from, no matter how small or big! And I find I am inspiring others too, which makes me ecstatic to see that I am worth somethin!
So if you see something you like here on my blog or elsewhere, never hesitate to email me or ask me about it! I'd love to share, as I've found myself wondering the same about other's work and design! Thanks so much to the almost 200 followers I have and for the daily readers who always put that big ole smile on my face! So now that I've shared my feelings for the week, I'll share some link-ups!
Favorite Photo of the Week
This was so hard, considering I take numerous photos per day! So I find myself loving this one, the off center face and the expression!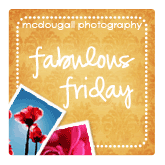 Hosted by Cecily and Lolli