...no you don't have to take off all your clothes ;) But it IS hot around here. Seriously. Heat indexes in the 100's already! BLAH! Good thing my parents have the pool up! My hubby has been in it three or four times and I enjoyed it for the first time yesterday! Sooo much better than sweating your booty off! LOL.

I have been busy cleaning up from the long 3 day weekend we enjoyed. There was SO. MUCH. LAUNDRY. It's pretty scary, but I'm slowly washing my way through it. I took wayy too many photos on Memorial Day, but it's okay, I got them all edited and now have to edit ones from yesterday evening! It's a never ending cycle.

Before the photo sharing I have to let you know that my kitty photo I entered into Allie's Happy Monday theme "Something You Love" was Voted #1!! I am soo honored because before I even announced on my blog that I was a finalist I already had around 24 votes for my photo! Thank you to all who "liked" it and voted for it! :)


My other kitty photo I shared in Friday's post was also a 'favorite' of Tara's over at Live Every Moment blog (I entered it for "Vibrant")!

First my entry for Trendy Treehouse, "Trees". I thought this photo was perfect. I love the perspective and how much you can "see" and all the trees in the frame filled it up perfectly!



"Simple"


A simple shot of a dirty little foot. I LOVE IT.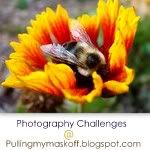 Self Portrait; Number


Well do you see the "number" in the photo?! You'll have to think outside the box..it's a written number on the Coke can, Coke "ZERO". Hahaha. I normally don't let my child go around drinking pop but I do have to bribe now and then to get him to sit still enough by me :D



Good to WOW; Looking up


This photo was taken yesterday evening. I was on the ground looking up to my sister's bike wheel/tire and snapped this photo. I really liked the angle and DOF! (PS the photo will be bigger when I edit!)